RESIDENCY NEWS
Shelley Berkow, Residency Program Manager
We have had a very busy time over the last 6 months with graduation in May, updating & creating all our paperwork and the endless policies for the upcoming Royal College on site Review, and the start of Competence by Design (CBD) for Anatomical Pathology on July 1, 2019.
GRADUATION 2019
The graduation dinner and ceremony for the 2019 grads was held at The Royal Vancouver Yacht Club, on a beautiful spring evening on May 16, 2019, and was attended by a record 111 guests.
There were 10 residents graduating, and 2 clinical fellows. All our 10 graduating residents passed their Royal College Exams and have either started a fellowship or have been hired as a staff pathologist. Congratulations to you all
Anatomical pathology:

Kenrry Chiu is currently doing a gastrointestinal/liver pathology fellowship in New York.

Nissreen Mohammad will be starting a bone & soft tissue fellowship here at VGH in December, followed by a gynecological pathology fellowship in July 2020.

Daniel Owen Is doing a gastroenterology, pancreatic & hepatobiliary pathology fellowship at Cleveland Clinic, USA.

Jessica Saunders is doing a pediatric pathology fellowship at Seattle Children's Hospital.

Ema Todorovic is doing a head and neck fellowship at Toronto General Hospital.
Hematopathology:

Maryam AlBakri is now doing a flow cytometry fellowship at BC Children's.

Krista Marcon is a staff hematopathologist at VGH.

Hamish Nicolson is a staff hematopathologist at SPH.
Medical Biochemistry:

Catherine Cheng is a staff medical biochemist at VGH.
Medical Microbiology:

Lisa Li is a staff medical microbiologist at VGH.
Clinical Fellows:

Noorah Almadani who will complete a clinical fellowship in gynecological pathology on March 31, 2020.

John Aird who successfully completed a clinical fellowship in gastrointestinal pathology.
NEW PROGRAM DIRECTOR - HEMATOPATHOLOGY
We are very excited to welcome Dr. Kate Chipperfield, who was appointed as a Co-Program Director with Dr Suzanne Vercauteren on July 1, 2019 to ensure a smooth transition before assuming the role of Program Director on July 1, 2020. Kate is recognized as an excellent diagnostician, a dedicated teacher & mentor in Hematopathology and Transfusion Med. Welcome Kate! We are so enjoying working with you.
CBD/CBME/EPAs / MILESTONES / ENTRADA etc.
There's no time to get complacent here in the residency admin office as new processes and systems are continuously coming our way. We welcomed our first cohort of Competence By Deisgn (CBD) PGY 1 residents in July in Anatomical Pathology, and we're all slowly getting used to the new evaluation system called Entrada, and what EPAs and Milestones are. Our CBD faculty lead for all the Pathology programs, is Dr. Brian Skinnider, who has embraced this role with his usual enthusiasm and good humour, and under his leadership, the CBD role out for the other programs should be very smooth.
INCOMING PGY1 RESIDENTS
Welcome to Anatomical Pathology CBD PGY1 Residents, Ardalan Akbari, Jamie Lee, Collin Pryma and Deepak Toor. Also, a warm welcome to Robert Guo (Hematopatholgy); Suefay Liu (Medical Microbiology) and Brenden Joseph (Neuropathology) who will be completing their basic clinical year at either SPH or RCH.
INCOMING PGY2 RESIDENTS
We welcome PGY2 Anatomical Pathology residents who have just completed their clinical year, who are the last cohort to be on the traditional (non-CBD) track. A warm welcome to, Johnathan Lee, Michael Multan, Taylor Salisbury and Hang Yang.
GENERAL PATHOLOGY
General Pathology is now on 'inactive' status, and no longer actively recruiting residents.
ROYAL COLLEGE ON SITE REVIEW
Anatomical Pathology, Medical Microbiology, Neuropathology & Hematological Pathology are all being reviewed by the Royal College between March 2 – 5, 2020. My admin office, has been extremely busy over the summer, dealing with all the documents and policies that are required to be submitted by Oct 11 for these four programs. A no small feat, given the number of new policies, and requirements that needed to be in place by the end of the summer.
Congratulations to Jenny and Alex. How cute is he!!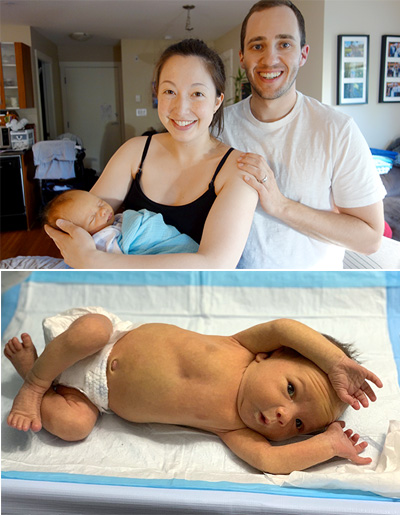 Congratulations to PGY4 Anatomical Pathology resident, Jenny Chu and her husband Alex, who welcomed baby Joshua Walter Sykelyk on Aug 12, 2019