Heather Cheadle-Yamamoto, Graduate Program Coordinator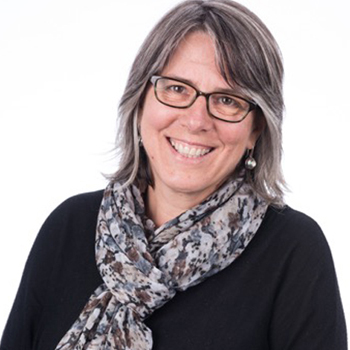 Another academic year is starting and I want to extend a warm welcome to all the students joining our graduate program in Pathology and Laboratory Medicine. These are special times that have highlighted the value of research such as that carried out in our institution and our department. Heather and I look forward to meeting you all.
Dr. Hélène Côté
Graduate Program Director and Graduate Advisor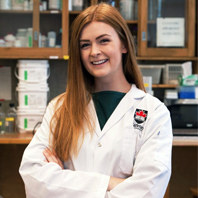 Elyn Rowe,
Degree Program: PhD
Congratulations to PhD Student Rowe Elyn for receiving a Vanier Scholarship
Research Project: Investigating the Role of Circulating High Density Lipoproteins Containing Apolipoprotein E in Alzheimer Disease.
Supervisor: Cheryl Wellington
Named after Canada's Major-General Georges P. Vanier, the Vanier Canada Graduate Scholarships (Vanier CGS) program is designed to support world-class doctoral students who demonstrate both leadership skills and a high standard of scholarly achievement in the social sciences and humanities, natural sciences and engineering, and health-related fields.
Graduate Studies Welcome New Students!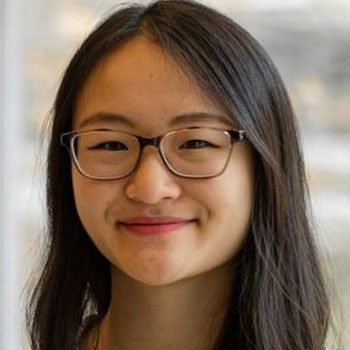 Loulou Cai [Jan 2021]
MSc
Supervisor: Helene Cote
Short bio:
I've chosen to attend UBC for my graduate studies as the quality of research performed here has always been at a very high caliber, and the environment has been friendly and supportive. I knew I wanted to attend UBC when I was on a summer exchange here during my undergrad. I completed my undergraduate at McGill in Biochemistry with a minor in Health Geography. It is the combination of these two areas of study that made me realize that I enjoyed translational research, where I can directly study a disease or affliction. My research is to investigate the effect of chronic and latent viruses on immune aging. I will measure different markers of aging in a few subsets of immune cells and associate them to the number of infected chronic and latent viruses. With my research, we can see the effect of multiple and specific viruses on the immune system and their potential detrimental effects. In my spare time, I enjoy all-season hiking, snowboarding, baking and tending to my indoor plants.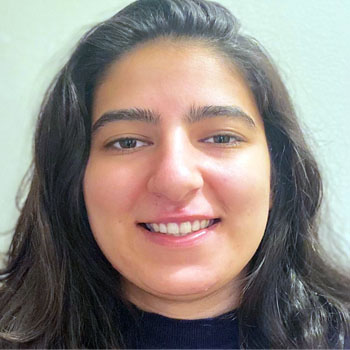 Raneen Abdul-Rahman [May 2021]
PhD
Supervisor: Jacqueline Quandt
Short bio:
Hello, my name is Raneen Abdul-Rahman! I was born and raised in Calgary and graduated from the University of Calgary with a bachelor's in neuroscience. For my masters, I have the pleasure of working under the supervision of Dr. Jacqueline Quandt, where my research area combines my passion for two fields: neuroscience and immunology! More specifically, I am studying Multiple Sclerosis to better understand the disorder, prevent damage and enhance repair. While Dr. Quandt was one of the main reasons I chose to study at the UBC, its student-centered learning opportunities and reputation of excellence in research also drew me to the university. Aside from my academic interests, I love being outside and enjoying nature. Whenever possible, you can find me exploring all the views this lovely city has to offer. When I'm not exploring the city, you can find me watching sports, tutoring, catching up on all that's going on in this world, spending time with friends and family, or watching Netflix and trying to learn how to cook. I'm super excited to join this program and can't wait for the unforgettable experience to come!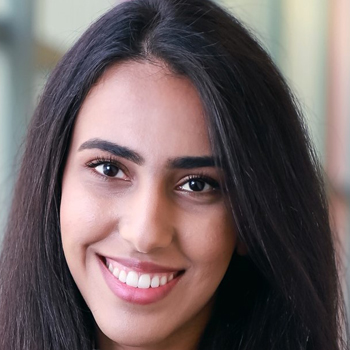 Rana Jafari-Minab [May 2021]
PhD
Supervisor: Bruce Verchere
Short bio:
After finishing my master's degree in this department focusing on virology and infectious disease research, I have switched to my PhD in the Verchere lab. My PhD research involves the gut microbiome and type 1 diabetes with the goal of treating and/or halting the progression of type 1 diabetes with altering the microbiome status through fecal microbiota transplantation methods. I have chosen to continue with my PhD at UBC with the goal of having my own research lab one day. On my days off I enjoy playing beach volleyball, ballroom and Latin dancing and taking in the views that the lower mainland has to offer.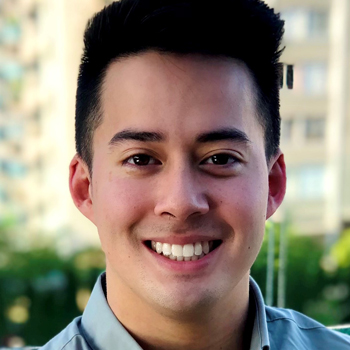 Aaron Mah [May 2021]
MSc
Supervisor: Babak Shadgan/Donald Anderson
Short bio:
I am originally from Vancouver. I moved to California for my undergraduate education at UC Berkeley where I earned my B.A. in Integrative Biology. I am currently a member of the Shadgan Lab at ICORD where I spend a lot of time working with biosensing devices that can track physiological changes in the body. Some of my current projects involve the application of these devices in medicine and exercise physiology. I have an athletic background in gymnastics, so I enjoy any research project that involves sports medicine or exercise physiology. Outside of school, I try and take advantage of beautiful Vancouver by spending time outside and taking my dog, Poppy, on walks and hikes. I chose UBC because of the shared values of diversity, integrity and collaboration in addition to the wealth of resources that the PALM program has to offer in the field of human biology.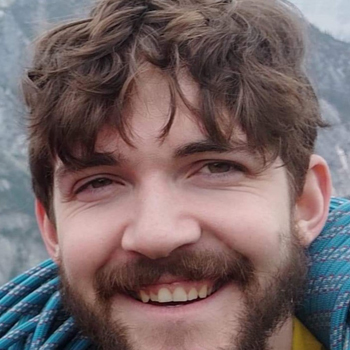 Lucas Starchuk [May 2021]
MSc
Supervisor: Ramon Klein Geltink
Short bio:
I was born and raised in Kelowna B.C. and did my undergrad in biochemistry at UBCO. While there I did some research in a lab investigating the influence of polyunsaturated dietary fats on health and heart disease. I loved studying metabolism but had wanted to move away from nutrition. I finally mustered up the courage to move four hours west and am now studying immunometabolism with a group of really cool people in the Klein Geltink Lab at BC Children's Hospital. Along with my research I also enjoy mediocrity in rock climbing, alpinism, trail running and Muay Thai (and always looking for new training partners!). I'm very glad to be able to attend such a great school while remaining in B.C. since it offers amazing outdoor opportunities in all directions, and Vancouver is a beautiful city. It's also always been a dream of mine to work with BC Children's, so the fact that I can conduct research in a lab there while completing graduate school is quite exciting.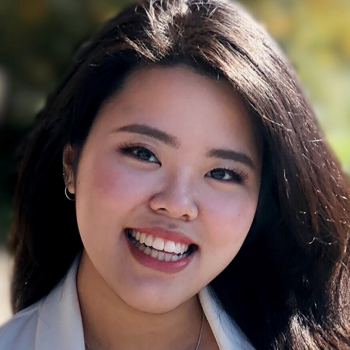 Guadalein Tanunleong [May 2021]
MsC
Supervisor: Inna Sekirov/Mel Krajden
Short bio:
Hi I'm Guad, a Master's student in the Department of Pathology and Laboratory Medicine! Throughout my graduate studies, I am working with Dr. Inna Sekirov and Dr. Mel Krajden at the BC Centre for Disease Control. We are investigating SARS-CoV-2 antibody responses in prenatal women to understand how pre-existing immunity from endemic coronaviruses can affect their immune response, as well as to evaluate their association with maternal and neonatal outcomes. I previously completed my BSc in Biology at UBC in May 2020, where my co-op placement and directed studies project have fostered my passions in studying antibodies and infectious diseases. I am thrilled to be able to return to UBC to pursue my professional interests in viral immunology, infectious diseases, clinical diagnostics, and their potential implications in public health. At UBC, I believe that I can receive the best student-centred training most optimal for my academic growth, personal development, and long-term career goals. During my spare time, I enjoy travelling, photography, and spending time outdoors by the sea and the mountains - hiking, running, and lately I've been learning to ski as well!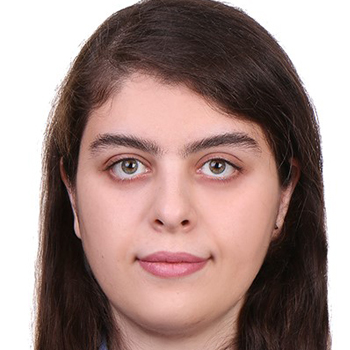 Moones Yadegari [May 2021]
MSc
Supervisor: Philipp Lange
Short bio:
Hi, I am Moones. I am a graduate student in Pathology and Laboratory Medicine at UBC. I studied veterinary medicine in my home country, but because my passion was also in the research fields of biotechnology and molecular biology, I pursued conducting research in protein engineering as my thesis. Now, I am working on my project focused on the effect of proteolysis protein interactions at BC Children's Hospital Research Institute. Being admitted to UBC is a dream come true and I will seize every single moment of it to establish myself in pediatric cancer. This field has been my research interest because by contributing to this research field, I feel I can directly or indirectly have a positive impact on people's lives. It gives me a sense of satisfaction and reward in my heart that brings happiness in my life. Hiking, hanging out with my friends and visiting beautiful Vancouver are my favorite activities. I can't wait to see Vancouver in Spring and Summer."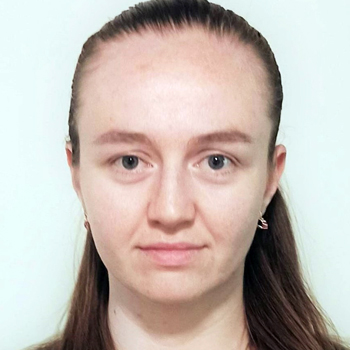 Maria Elishaev [Jul 2021]
MSc
Supervisor: Ying Wang/Honglin Luo
Short bio:
My name is Maria, and I am a new M.Sc. student in UBC, Pathology and Laboratory Medicine Department. My research area is biomedical technologies, and my main interests include tissue engineering and the development of pathologies and tumours, particularly the processes of cellular redifferentiation. I have a B.Sc. in Biomedical Engineering, an MBA degree and 4 years of experience working in various biomedical companies. Biomedical research is not just my occupation but my greatest interest and love, and I want to develop my career in this field. I believe that my devotion is to try and make this world better and to improve people's lives. When I have some free time, I love spending it with my family and friends, visiting new beautiful places, reading novels and practicing yoga. My main goals for the studies in UBC are expanding my knowledge, getting up-to-date information, pursuing extensive training and building my career. I am motivated to learn, collaborate, bring novel ideas and be creative, and I feel that UBC can provide all the tools and support needed to success.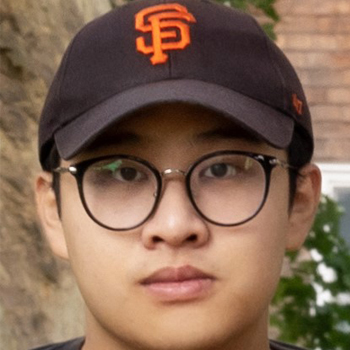 Xiangyu Gao [Jul 2021]
MSc
Supervisor: Ying Wang/Chun Seow
Short bio:
Hello, my name is Xiangyu Gao. I am from China. I am a first year Master student in Pathology program. I will be working on the topic of atherosclerosis through spatial biology under the supervision of Dr. Ying Wang at the Centre for Heart Lung Innovation. I got my bachelor degree from the University of California, Davis in Genetics and Genomics with an education minor. When I am not in the lab, I like to cook and play tennis. I like to go fishing as well but sadly I don't know how to fish and never caught a fish before. I just moved to Vancouver in June and I already like it here. The weather here is better than California. I chose UBC because I like the chill weather, the school reputation, the resources here, and the network of amazing fellow researchers. Most importantly, I am really interested in the approach that Dr. Ying Wang uses to study atherosclerosis. I believe UBC will provide me with a suitable environment to thrive and meet great people. Nice to meet you all!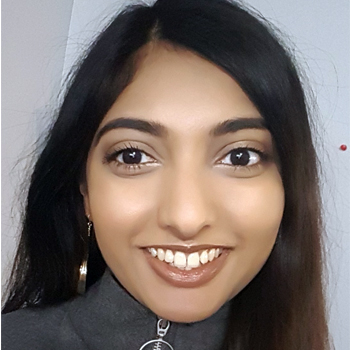 Vriti Bhagat [Sept 2021]
MSc
Supervisor: Bruce Verchere
Short bio:
My name is Vriti and I will be joining Dr. Bruce Verchere's laboratory as a MSc student to study diabetes. I became interested in studying diabetes because of the growing prevalence of type 2 diabetes across the global, and its impact on millions of lives. The primary focus of my research is to elucidate the pathway of how pancreatic beta cell hormones are processed in humans. I will be studying how processing of prohormones is altered in diabetes, and investigating biomarkers of prohormone processing deficiencies.  Previously, I graduated from UBC with my BSc in Integrated Sciences combining the disciplines genetics, immunology, and physiology. I chose to pursue graduate studies at UBC because of the phenomenal faculty and students, some of whom I had the pleasure of working with during my undergraduate studies. Also, Vancouver has the most beautiful landscape featuring the ocean and mountains. My favourite part about campus is walking towards the Rose Garden between Koerner and IKB and soaking in the breathtaking view! Outside of the lab, I enjoy playing my flute, gardening, cooking, hiking, and volunteering with the non-profit organization I co-founded, ExploResearch.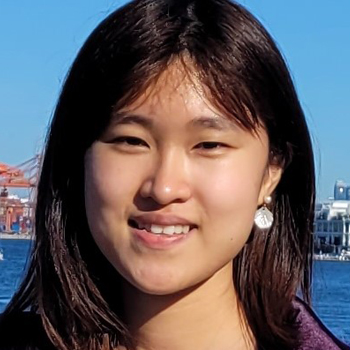 Honor Cheung [Sept 2021]
MSc
Supervisor: Cheryl Wellington
Short bio:
My research focuses on the study of high-density lipoprotein, Apolipoprotein E (APOE) polymorphisms and its relation to vascular integrity in the context of traumatic brain injury (TBI). ApoE is involved in a multitude of processes including cholesterol clearance and transport in the brain. In particular, the ApoE4 allele has emerged as a risk factor for small vessels disease and vascular cognitive impairment. However, much of the current data has been limited to 2D histological analysis of the brain vasculature, and even less is known about ApoE4's potential implication towards vascular health post-TBI. I am currently working on tissue clearing techniques to visualise the 3D brain vasculature in human E3/E4 targeted replacement (TR) rodent models to test the hypothesis that ApoE4 would worsen vascular integrity in TR mice with and without TBI. I completed my undergraduate studies at UBC in Microbiology and Immunology, during which I had the pleasure of working with amazing people from the faculty of Pathology through the science Co-Op program. This experience affirmed my interest in doing science and I hope to learn more through continuing my studies at UBC. In my spare time, I enjoy reading fiction as a getaway from academic literature, as well as drawing to engage my creative side.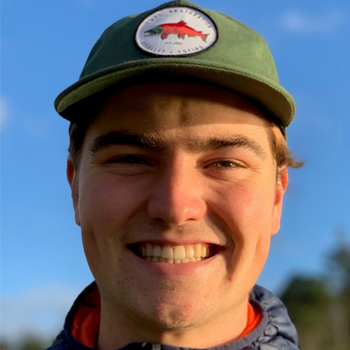 Liam Johnston [Sept 2021]
MSc
Supervisor: Kirk Schultz
Short bio:
My name is Liam and I'm excited to be studying graft versus host disease (GvHD) in the context of cancer immunotherapy under Dr. Kirk Schultz. I just completed my undergraduate degree in microbiology at Quest University in Squamish where I spent my free time mountain biking and backcountry skiing. I love being outside but am just as happy strumming guitars with friends. I just finished my summer work doing search and rescue with the Canadian Coast Guard, so I'm looking forward to getting back into the lab! The warm community and unique research opportunities are what lead me to pursue my masters at UBC. I'm quite looking forward to meeting my new colleagues and can't wait to see where the next few years of research take us.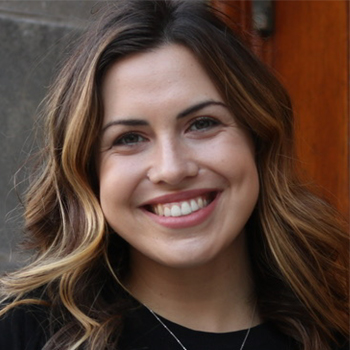 Rosemary Papp [Sept 2021]
MSc
Supervisor: Angela Devlin
Short bio:
My name is Rosemary (Rosie) Papp and I am excited to start Graduate school in the Department of Pathology. I recently completed my Bachelor of Science with a major in Life Science's and a minor in Psychology at Queen's University in Kingston, Ontario. As an individual very passionate about health and wellness, I am excited to have the opportunity to be involved in research for the Devlin lab at BC Children's Hospital, where I will be investigating the relationship between nutrition and cardiovascular disease. During my time at Queen's, I developed a background in physiology, biochemistry, microbiology, and epidemiology through a variety of courses. Additionally, I had the privilege of working for Dr. Hardy at Western University as a summer undergraduate student, where I was exposed to the world of biomedical research. This prior experience and passion for health sciences gave me motivation to apply to the Department of Pathology. I am very grateful for the opportunity ahead of me, and especially Dr. Devlin for all of her guidance and compassion. I am also very excited to snowboard this winter!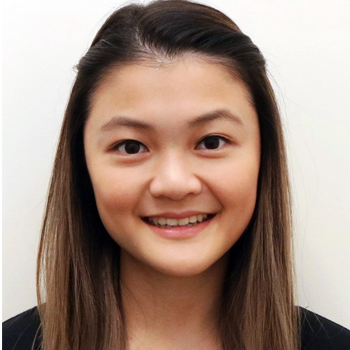 Terri Ser [Sept 2021]
MSc
Supervisor: Ramon Klein Geltink
Short bio:
Hi everyone! My name is Terri and I recently obtained my Bachelor's degree from the University of Toronto, where I completed a double major in pharmacology and biochemistry and a minor in immunology. During my undergraduate studies, I became fascinated with cancer research and immunometabolism, which led me to join Dr. Klein Geltink's lab as an undergraduate researcher during the Summer of 2020. I will be continuing my work in this lab as a graduate student, where I aim to investigate the metabolic conditioning of T cells as a way to improve immunotherapies. A few of my personal interests include playing badminton and ultimate frisbee. I also enjoy going on runs, walking my dog, and discovering new restaurants around the city. Although I enjoyed living in Toronto, I am excited to be back home in Vancouver. I look forward to exploring UBC's beautiful campus and meeting my fellow peers in the Pathology and Laboratory Medicine Program.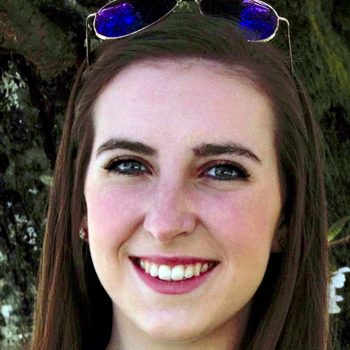 Jane Velghe [Sept 2021]
MSc
Supervisor: Bruce Verchere
Short bio:
My research focuses on the pathophysiological role of islet-residing macrophages in diabetes. I earned my BSc from UBC through the Integrated Science Program, where I studied medical genetics and biomedical engineering. I'm interested in translational research that aims to improve quality of life for people living with diabetes. Outside of research, I'm an active first responder and an avid sailor. I enjoy solving complex problems with innovative solutions, both in my personal time and in research. UBC is a gorgeous place to study, with easy access to Vancouver and surrounding mountains. However, the collaborative community, student support, and caliber of research were the deciding factors to stay at UBC for graduate research.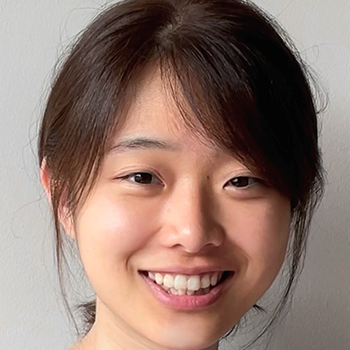 Eri (Erin) Tanaka [Sept 2021]
MSc
Supervisor: Ramon Klein Geltink
Short bio:
I am a graduate student in the Klein Geltink Lab interested in studying how metabolism controls and regulates the function and activity of immune cells. Similar to a collective organism, individual cells rely on specific nutrients in order to fuel and sustain their growth and function. This is especially important in the context of immune cells, since they play fundamental roles in the fight against infections and cancer. By studying the metabolic dependencies of these immune cells and how different nutrients underlie their anti-infection or anti-tumor activities, I am hopeful that my research will provide more insight on the complex system of an immune cell, and open up new potentials for immunotherapy and treatments for genetic diseases. My Bachelor's degree in Biotechnology from UBC has greatly helped me realize my interests and provided me with crucial literary and technical knowledge for my graduate studies. I think UBC is a welcoming environment that fosters inclusion and growth, and has an abundance of research excellence that I am excited to be a part of. Besides time in the lab, I greatly enjoy consuming various sustenance and engaging in miscellaneous activities.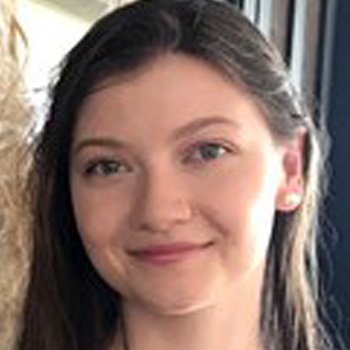 Alexandra Witt [Sept 2021]
MSc
Supervisor: Ed Pryzdial
Short bio:
My name is Alexandra and I have joined the Pryzdial Lab in the UBC Centre for Blood Research as a graduate student this year. I've just graduated from Queen's University with a BScH in Life Sciences with a Specialization in Biomedical Discovery. I spent the summer of 2021 in the Pryzdial Lab as a CBR-SBME summer student, and am excited to continue my work in the field of fibrinolysis under my new title. My project centres around the generation of new thrombolytic agents to replace the current drugs for treatment of heart attacks and strokes. I will be mutating clotting factors V and X in an effort to inhibit their clotting functions and enhance their fibrinolytic activity, thus allowing them to break up the blood clots that cause said heart attacks and strokes. I'm looking forward to working towards a PhD and a fulfilling career in translational research. I chose UBC not only for this lab and this project, but also for beautiful BC! Outside of the lab I love to hike and explore new restaurants, which has made BC the perfect province to call my new home.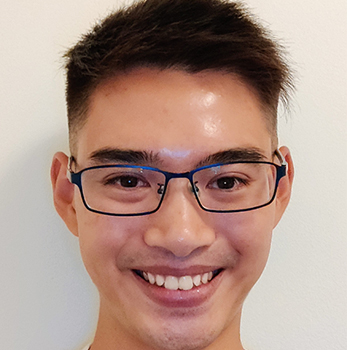 Alister (Chun Kit) Wong [Sept 2021]
MSc
Supervisor: Cheryl Wellington
Short bio:
I am Alister Wong from Hong Kong. I am studying the cerebrovascular pathology, specifically cholesterol transport and metabolism in Alzheimer's Disease under Professor Cheryl Wellington. I obtained my BSc in Biotechnology back in the Hong Kong University of Science and Technology. After a few years in the medical device industry, I pursued my MSc in Experimental Pharmacology in University College London. My research interests are neuropathology and cardiovascular science, which resonates with my previous clinical experiences in the medical device field. In my spare time, I love to do personal sports such as swimming, hiking or jogging. It is my way to clear my head and relax. I chose UBC because of its world-leading medical research and its cultural diversity. I believe that I can fit in without any fear of exclusion and diversity also cultivate the person to be bold and tolerant with new ideas and perspective. Coupling cultural diversity with the pioneering medical research in UBC, I believe this is the best place for my personal growth.