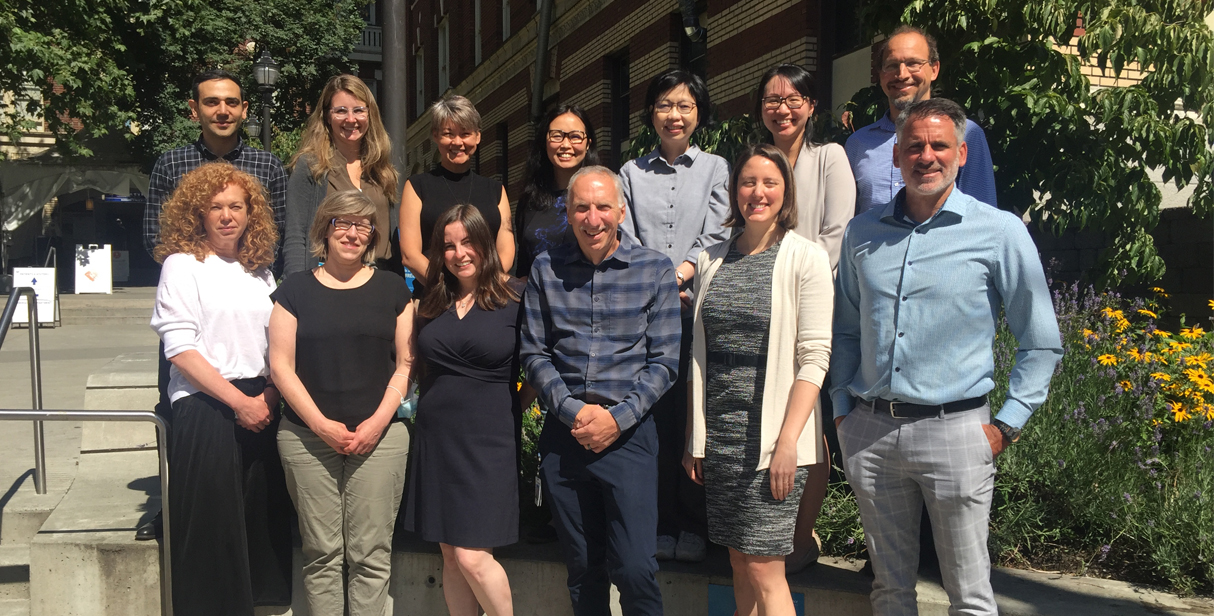 Andre Mattman, MD, FRCPC; Medical Biochemist; Chair Medical biochemistry advisory group Provinical Laboratory Medicine Services
The clinical chemistry team at Providence Health Care including St. Paul's Hospital (SPH) and Mount Saint Joseph Hospital (MSJ) has been making steady advances in improving patient care both within local facilities and within the province of B.C. At this academic medical centre, the team based approach has been paying dividends:
Patient Centred:
At the heart of all initiatives at Providence Chemistry is a desire to meet the needs of the local clinical services caring for patients, while also providing many provincial testing programs (e.g. acromegaly and growth hormone deficiency, Grave's Disease, IgG4 related disease, alpha 1 antitrypsin (A1AT) deficiency, primary aldosteronism, and Cushing's Disease). Our team supports prompt, high quality testing supervised by Mario D'Angelo, Gurjit Bubra and Yvonne Feng. Alongside the routine testing, we also support esoteric services that meet the needs of complex patients. We are the only clinical laboratory in Canada offering in-house mass spectrometric analysis of testosterone, thyroglobulin, aldosterone and renin activity amongst others. We continue to expand our test menu to meet these needs; recent additions include mass spectrometric analysis of calcitriol, dexamethasone and insulin analog testing.
Expanding Provincial Services:
Innovative test offerings for thyroglobulin (4+ years), infliximab (4 years), and Alzheimer's biomarkers (CSF amyloid-beta 1-42, amyloid-beta 1-40, total-tau and phospho-tau as of July 1, 2021) by mass spectrometry and immunoassay have filled provincial and national gaps in the care for monitoring of papillary and follicular thyroid cancer monitoring, rheumatologic diseases, and cognitive impairment respectively. Funding for these new initiatives is not easy to secure but by means of a mix of provincial funding for infliximab, Dr. Mari DeMarco's research funding and research laboratory, and a large measure of ingenuity on the part of each of Dr. Daniel Holmes, Dr. DeMarco, Grace van der Gugten and Laura Burns. These advances are now stable pillars for the provincial healthcare framework.
Clinically Engaged:
Dr. Janet Simons and Dr. Holmes have led quality initiatives throughout St. Paul's Hospital and well beyond the lab. Dr. Simons divides her time between patient care on the internal medicine clinical teaching unit, hospital informatics, and the laboratory chemistry division. In each of these diverse contexts she leverages her knowledge of others to provide end-to-end solutions for the benefit of her colleagues and patients. Specifically, she has championed improvements in sample collections (e.g. award-winning strategies for reducing redundant collections), and coordination of laboratory efforts with clinical need by optimizing bidirectional communications between clinicians and laboratorians in multiple senses from facilitating physician order entry, conducting regular tours of the laboratory with internal medicine trainees, and creating a user friendly laboratory test formulary ( test catalog). She is indeed a pathologist who has "gotten out from behind the microscope" and lives equally in the clinical care realm.
Driving Innovation:
Dr. Simons and Dr. Holmes have offered regional and international courses in Data Science using the R statistical programming language - but it's not just an academic interest. Dr. Simons uses automated reporting tools in R to produce monthly SPH and MSJ quality reports, and Dr. Holmes's QC reporting software has been in continuous operation since 2013 providing automated control chart reports to technologists and laboratory physicians in VCH, PHC and PHSA. During the COVID response, Dr. Holmes and an engineer colleague, Mahdi Mobini, wrote software to automate the data workflow for the PHC COVID response connecting 10 devices and 2 Linux servers which has, to date, permitted SPH to avoid 170,000 manual result transcriptions to the Sunquest Laboratory Information System.
Dr. Angela Fung, along with Sheri Young, has been coordinating improvements in Point of Care testing throughout Providence and throughout lower mainland labs as Dr Fung is the chair of the VCH/PHC regional point of care multi-disciplinary committee. She is currently investigating the use of HL7 Fast Healthcare Interoperability Resources (FIHR) as a potential means to interface point of care glucose instruments so that staff no longer needs to transcribe results into Cerner. Together with Judi London and Allyse Hummelman, custom rules are being developed with Data Innovation middleware to automate manual workflows at Mount Saint Joseph laboratory. In coordination with Providence Health Digital Products team, SPH lab has developed a machine learning tools, now running on Amazon Web Services, for the multi-analyte detection of "delta checks" to detect specimen mix-up and contamination.
Collaborative:
When our medical microbiology colleagues rose to the formidable challenge of providing COVID-19 testing locally and regionally, the chemistry division assisted in a collaborative fashion: Dr. Simons worked directly on the COVID wards and implemented in-house COVID serology testing to assist with outbreak investigations. Dr. Holmes assisted as noted earlier and also with the sample pooling strategy to conserved scarce testing reagents. This latter endeavour was enabled by extensive programming and mathematical analysis. Dr. Fung contributed to the preparation of the provincial point of care COVID screening and testing guidance and implementation, as well as assisting point of care COVID studies with researchers at UBC. Dr. DeMarco provided a much needed coordinating focus in setting up a sample biobank for COVID-19 specimens, as well as contributing to the national COVID-19 serology guidance document for health care providers.