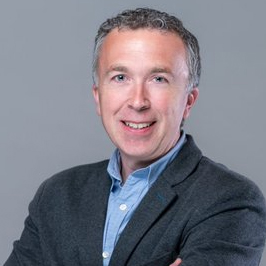 Written by: Kevin L. Bennewith, PhD
COVID-19 and a New Vision of a PhD Defence Day:
A Supervisor's Perspective
Kevin L. Bennewith, PhD - Senior Scientist Integrative Oncology Department BC Cancer
There are clearly a great many challenges and severe hardships faced by people around the world due to the COVID-19 pandemic, and the intention of this article is not to diminish or belittle the very real suffering that is going on.
These articles are commentaries on how physical distancing due to COVID-19 has affected the final PhD examinations of our students at UBC.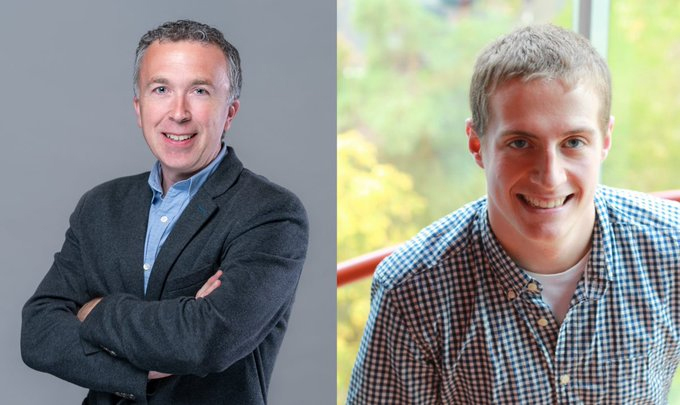 I had the pleasure of seeing one of my Pathology & Laboratory Medicine graduate students successfully defend his PhD thesis in July. The newly minted Dr. Brennan Wadsworth was one of many graduate students who have had to defend their work over an online platform since the middle of March. The PhD defence is the culmination of many years of difficult work in the laboratory. With appropriate levels of pomp and circumstance, the PhD defence is exciting, daunting, and the pinnacle of academic success for a PhD candidate. As I think about how thesis examinations have changed in just a few short months, I can't help but reflect on my own PhD exam (many, many years ago!).
I am a former Pathology & Laboratory Medicine graduate student myself, and can vividly recall my PhD defence. It was held in the Thea Koerner House at UBC, in a room that had been witness to thousands of PhD exams over the years. As an off-campus graduate student, we didn't venture onto campus very often after our first year of classes, and the trip out to UBC for the defence made the event all the more special. Even though I was 29 years old at the time, my dad drove me out to UBC on the morning of the defence. The audience was packed with family members and lab mates, several of whom joked they would hold up score cards after I answered each question to let me know how they thought I was doing. I think that I perform better in front of an audience (at least when I'm able to channel the nervous energy), and seeing everyone there was a source of inspiration while also underscoring the magnitude of the event. The audience gave me support before, during, and after the defence, providing words of encouragement during the examining committee's in camera discussion along with many handshakes and hugs after I got word of the positive outcome. Relief, exhaustion, and pride jostled for position in my mind, all the while surrounded by friends and family. I can recall my dad telling me he wanted to speak outside with a shall-not-be-named Pathology faculty member who he felt was giving me a particularly hard time during the defence. Instead, my parents took me out for a nice lunch and I spent the afternoon and evening continuing to celebrate.
I've served on several virtual MSc defences, comprehensive exams, and PhD defences since the middle of March, and they are a different beast all together. "The show must go on" as they say – we need to keep graduate students progressing through their programs, and the only safe way to do this during a global pandemic is to have virtual examinations. The technological mishaps during virtual meetings have decreased now that everyone has been doing this for a few months, and examiners have generally been able to focus on the task at hand, even with kids and/or spouses and/or pets roaming in the background. Students have adapted very well to giving virtual presentations, and question periods are as robust and detailed as they were during face-to-face examinations. The job is getting done. Students are progressing to candidacy or graduating.
The virtual examination gets the job done, but it's not the same.
For me personally, I'm a fairly social person and I miss interacting with students and colleagues face-to-face in the examination room. Joking with students before the exam to help calm their nerves, seeing the student's support network in the room, watching the student give an outstanding presentation and deftly answer a wide range of questions, congratulating successful students in-person at the end of the exam. The virtual examination gets the job done, but it's not the same.
I can't help but feel badly for students defending their years of work into a computer screen while sitting at their kitchen table, hoping their internet remains stable and hoping their phone won't ring in the middle of the questioning period. Gone is the visible support from people who have seen the student struggle through the ups and downs of years of research. No friends and family looking on with pride, no lab mates hanging on every word to judge the quality of the student's answers (while also taking mental notes of examiners they would like to avoid when their time comes). The in camera discussion bringing a dark screen and silence, the student is left alone during the agonizing wait for the outcome of the exam. A positive result sent to friends and family through a flurry of texts and social media posts but, as is all too familiar during this era of physical distancing, the face-to-face congratulations and celebrations have to wait.
We were there for hours, recounting tales of Brennan from the past 6 years, telling stories about the defence, and celebrating Brennan's milestone as the sun set.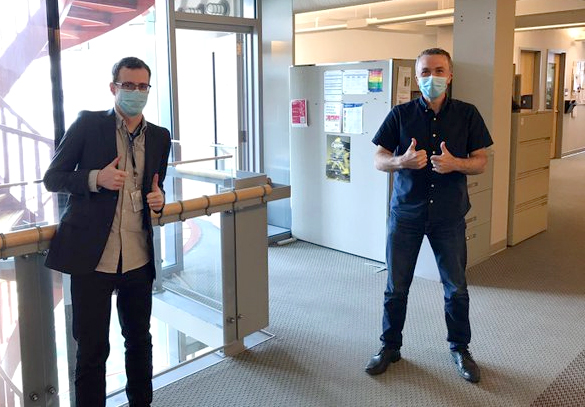 When Brennan defended, we wanted to be sure he wouldn't have to wait long. I happily commuted the hour and a half into Vancouver so I could sit the defence in my office at the BC Cancer Research Institute. Brennan was also in the building for his defence, taking over one of the meeting rooms (which I strongly recommend for any student defending virtually!). I was able to check in with Brennan before the exam to see if he needed anything and to wish him good luck, and I literally ran to congratulate him after the defence was done. After a quick debrief, we walked to a nearby park where Dr. Emily Button (Brennan's wife) and our 6 lab members were waiting with balloons, a cake, and an assortment of individually packaged snacks and beverages. We sat in a large circle in a field, keeping a 2 metre distance from one another, and ordered pizza that was put in the middle of the circle for sharing. We were there for hours, recounting tales of Brennan from the past 6 years, telling stories about the defence, and celebrating Brennan's milestone as the sun set.
As we all adjust to this new "virtual" reality, it's important for supervisors (and lab mates!) to remember that we can still provide support for our students before and after examinations. We need to go out of our way to make sure these academic milestones are celebrated, and celebrated safely. It may not be the way we originally planned, but we can still make the PhD examination an unforgettable experience for our students.