Three Giants of Pathology in the Province of the British Columbia
As I celebrate my 50 years of association with Lab Medicine in the province; some reflections set in. Three major organisations have been part of this journey: University of BC Pathology and Laboratory Medicine; BC Medical Association (now Doctors of BC); and Royal Columbian Hospital Lab (now Fraser Health Lab Medicine and Pathology). I have had the privilege of being mentored by three giants of pathology: Drs. Cam Coady, Don Rix and David Hardwick. Each of them played a significant role in my career, and I am the proud recipient of three medals named after each of them.
Dr. Arun Garg: Half a Century of Outstanding Service at Royal Columbian Hospital and UBC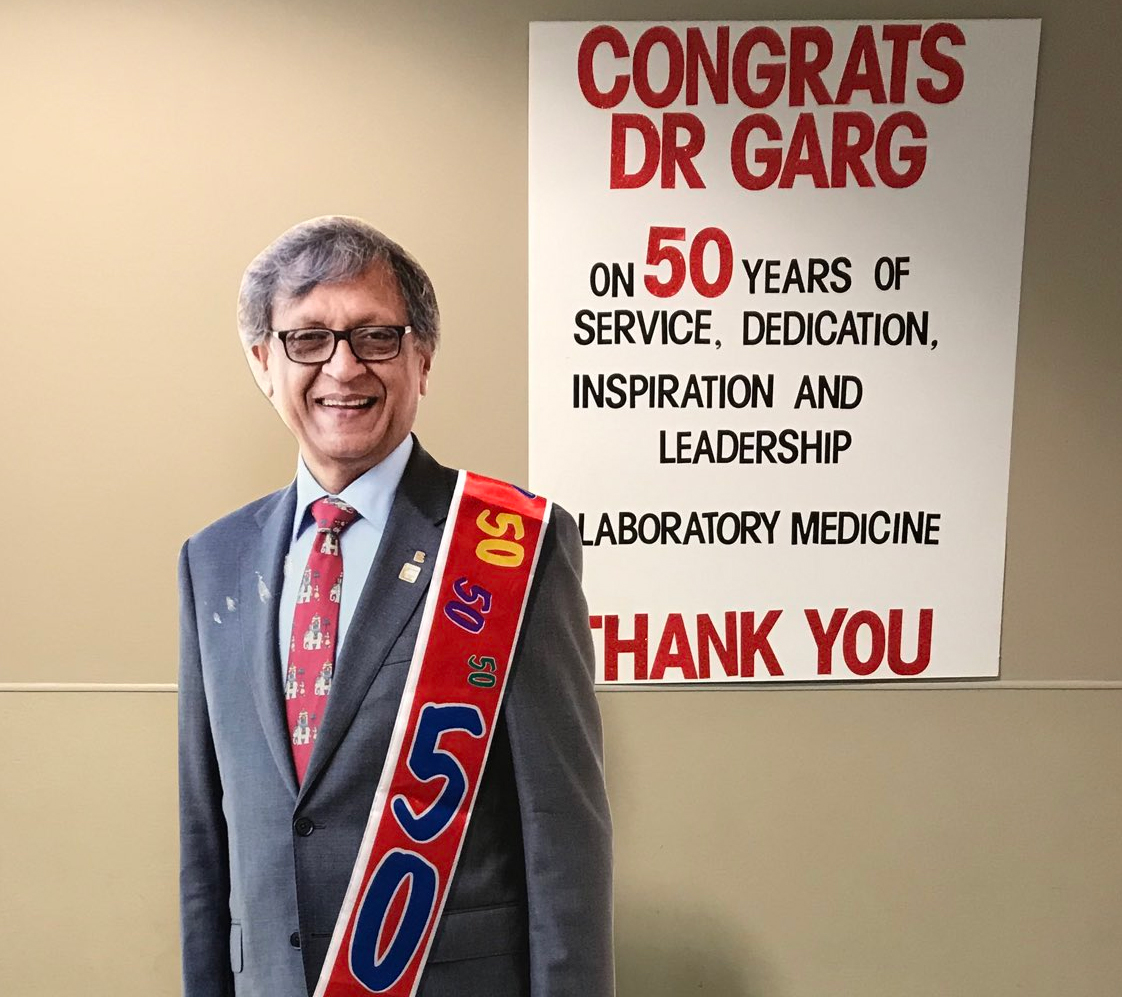 On July 1sth, Dr. Arun Kumar Garg received a wonderful, surprise celebration by the staff on his 50th anniversary at the Royal Columbian Hospital in New Westminster, which he said he found "very gratifying."
Dr. Garg is a global physician with interest and aspirations in integrated health and medicine. He is Consultant Medical Biochemist at Fraser Health, Clinical Professor at the University of British Columbia, and a Clinical Service Adjunct Professor at Simon Fraser University.
He is founding Program Medical Director of South Asian Health Institute at Fraser Health. Garg conceptualized and founded the Canada India Network Society in 2010. To build economic, trade, educational and cultural links between Canada and India through healthy civil society. He is also Director of the Global Office in the Department of Pathology in the Faculty of Medicine at UBC.
Dr. Garg is founding member of Canadian Physicians with Interest in South Asia (PISA) of BC, and the Canadian Association of Physicians of Indian Origin (CAPIH). He is an executive member of Global Association of Physicians of Indian origin (GAPIO). He has served in many leadership positions including president of Doctors of British Columbia. He has been the recipient of many awards and honors, including an honorary doctorate of technology from the British Columbia Institute of Technology and Dr. Don Rix Gold Medal for Leadership of Doctors of British Columbia, Dr. Cam Coady Service Award and the Dr. Dave Hardwick Lifetime Achievement Award.
Dr.Garg holds a Doctorate in Philosophy in Biochemistry from the University of Saskawatchen and Doctor of Medicine form the University of British Columbia. He is a fellow of the Royal College of Physicians and Surgeons of Canada and College of American Pathologists.