Shelley Berkow, Residency Program Manager
The residency admin offices have been a hive of activity leading up to the Royal College on site accreditation the week of March 1 – 6. The week kicked off on the Sunday, with a welcome reception for the surveyors, program directors and admin staff. A very enjoyable start to a very stressful week. The next morning, was down to business, with Hematopathology going first. Medical Microbiology, Neuropathology and lastly Anatomical Pathology followed over the next few days. Each morning, we found out what the provisional recommendation would be for the program that had been reviewed the previous day. By the time we go to Anatomical Pathology, the pressure was really on, as all of the preceding programs received full accreditation with a regular on site review in 8 years. Of course, not to be left out, we were thrilled when Anatomical Pathology received the same recommendation. I'm convinced this is all due, not to the hard work of our PDs, faculty & staff, but to the Sashimi & Miso soup one of our surveyors was rather partial to & we made sure to accommodate her request every day!
The final Royal College decision of these reviews will be released around October 2020.
USCAP Annual Meeting (Feb 28 - Mar 5, 2020)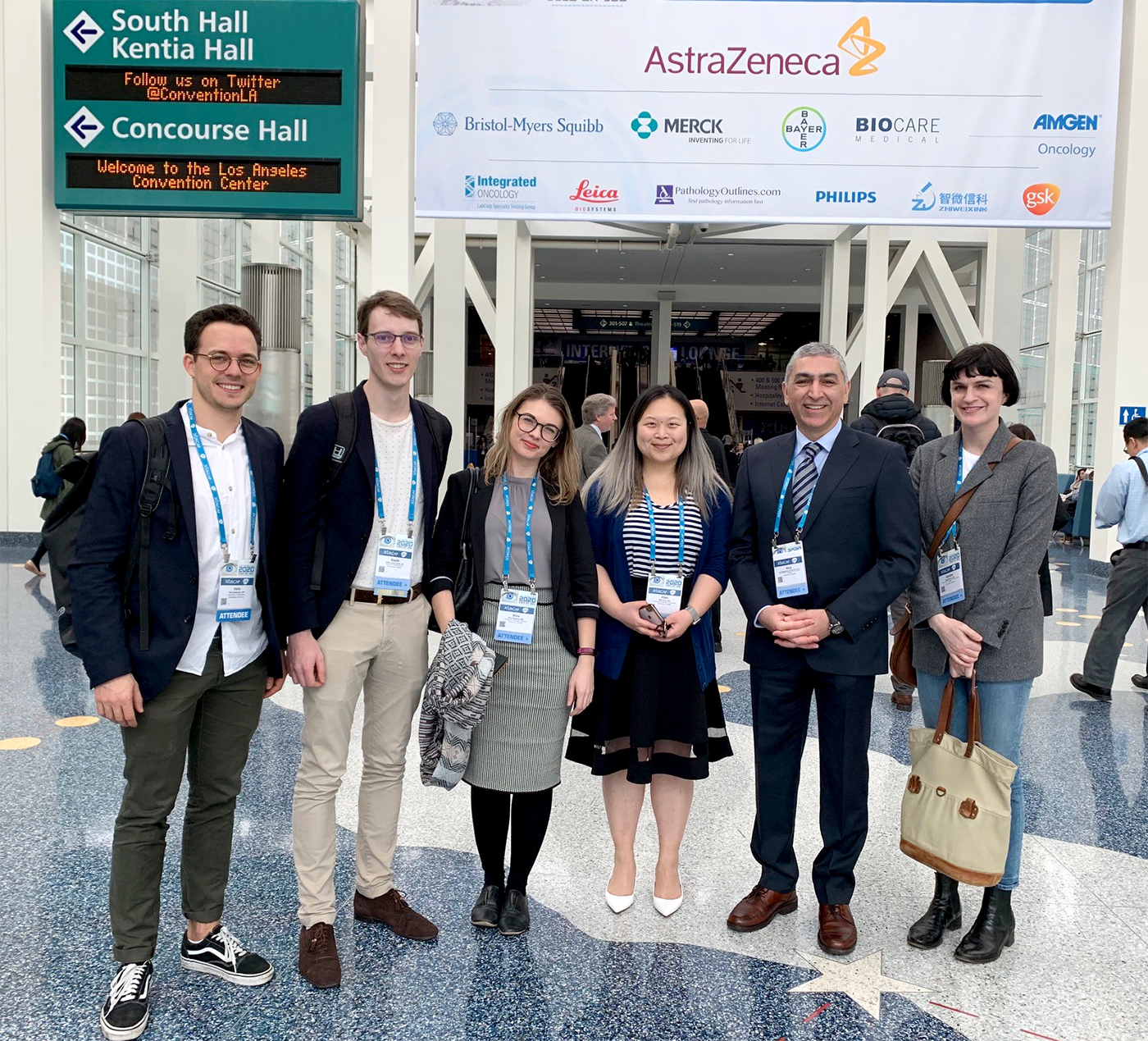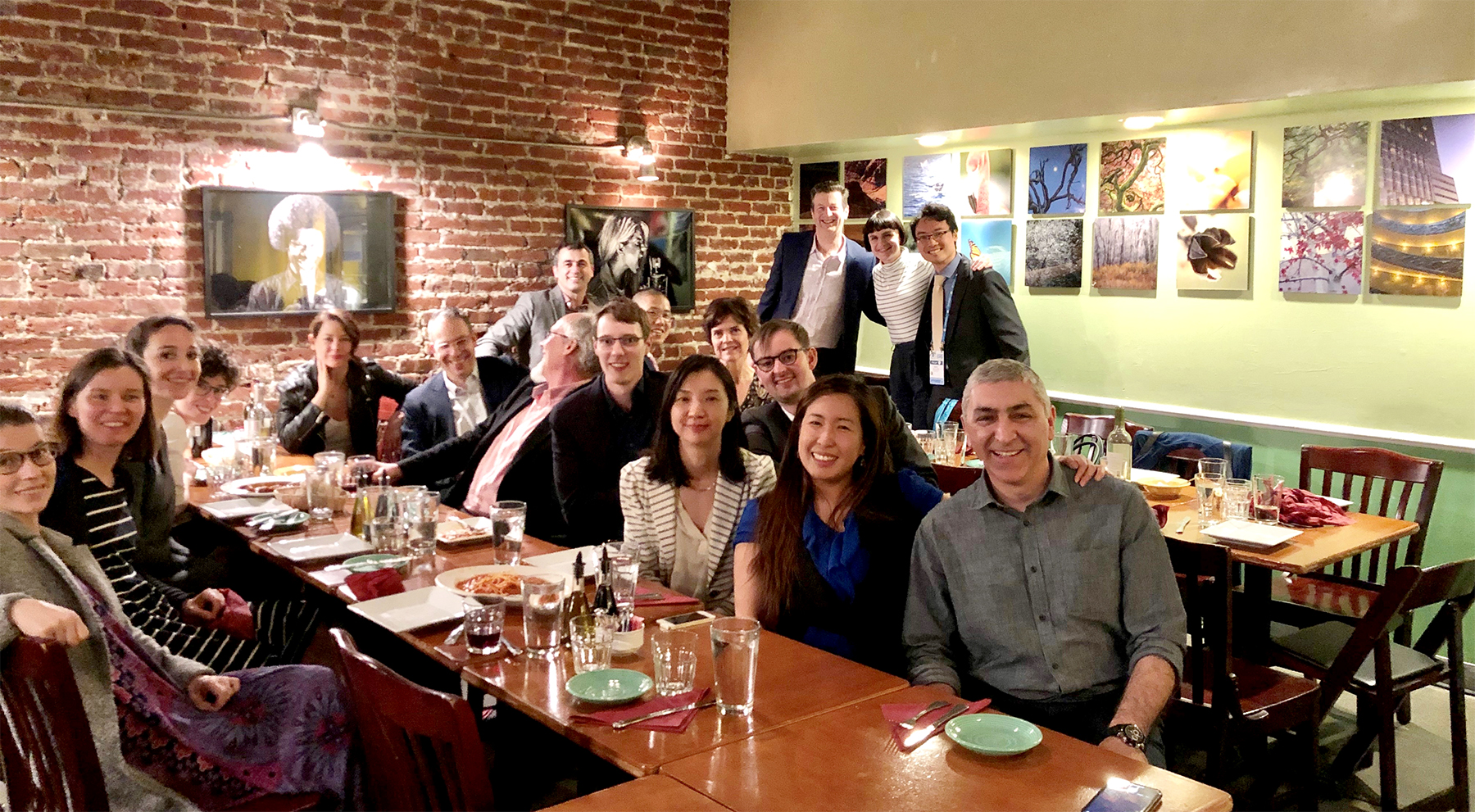 Whilst all this was happening, our Anatomical Pathology residents were down in LA for USCAP. They had to call in to their meetings, but it all went well & they got to enjoy USCAP. See the pictures below. Luckily everyone got back in time, before the COVID-19 travel restrictions were implemented.
Graduating Residents
Our grads are in full study mode, although at time of writing, the RC written exams have just been postponed due to COVID-19.
The following residents will be graduating this year:
Medical Microbiology – Eric Eckbo and Victor Yuen
Anatomical Pathology – Alisa Abozina, Ellen Cai, Deidre Ongaro, Jennifer Pors and Fatemeh Derakhshan.
We wish you every success for the exams which are now in Sept & look forward to celebrating your graduation as soon as we can all be together.
Farewell to Noorah Almadani
We will also be saying a fond farewell to Noorah Almadani, who is completing a Gynecologic Pathology fellowship under the supervision of Dr Lien Hoang. Originally expected to complete her training on March 31, 2020, but due to Covid19, she will stay until at least June 30, 2020. Noorah started with her Anatomical Pathology residency with us in 2014, so we will really miss her when she moves on. You've been like one of the family, so Noorah, make sure to keep in touch.
Not only did Noorah complete her residency and fellowship with us, but she and her husband Mohammad, were thrilled to announce the birth of their son, Abudullah, on Feb 4, 2020, weighing in at 2.9kg.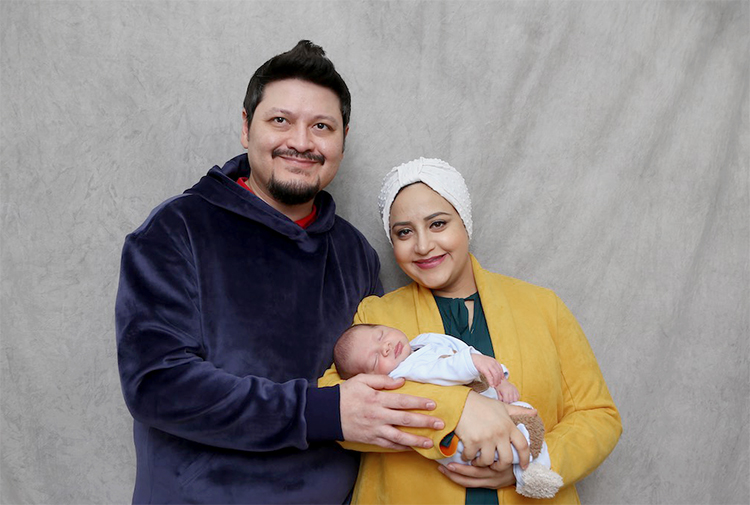 Competence by Design (CBD) and Incoming PGY1s
Our first cohort of AP CBD residents will soon be transitioning to Core from July 1, and we will be welcoming the next cohort of CBD R1 residents in July viz. Sirim Kim, Spencer Martin, Toby Schmitt & Derek van Pel . Congratulations on matching to Anatomical Pathology. Kevin Shopsowitz matched to Hematopathology, Conor Broderick to Medical Microbiology, and Karina Chorneka to Neuropathology.
Congratulations to everyone. We are very much looking forward to having you with us over the next few years.
PGME Recognition Award
In recognition of outstanding achievement and excellence in UBC Postgraduate Medical Education, our own Program Manager, Shelley Berkow, was recently awarded this PGME Recognition Award. Other awardees were Carlea Remodo (Family medicine-Indigenous site), Dr. Clinton Wong (Anesthesiology), Dr. Christy Sutherland (Family practice) and Dr. Henry Broekhuyse (Orthopedic Surgery)
Abstract Awards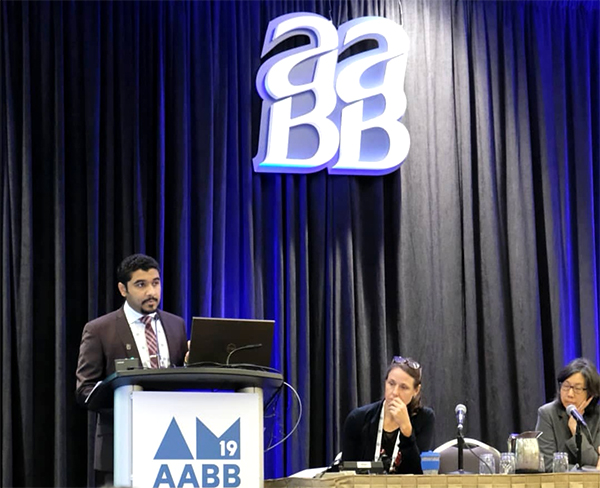 Muntadhar Al Moosawi is currently PGY3 hematopathology resident.
He received outstanding abstract award at the 2019 AABB annual meeting in San Antonio for my abstract titled "Introduction of ROTEM Testing Significantly Reduces Frozen Plasma Transfusion Rates in Liver Transplant Patients", supervised by Dr. Andrew Shih.
He also received abstract achievement award at the 61st ASH Annual Meeting and Exposition in Orlando for my abstract titled "The Use of Chromogenic Factor VIII Assay Changes Treatment Approach in a Portion of Mild Hemophilia A Patients with Factor VIII Assay Discrepancy", supervised by Dr. Shannon Jackson.