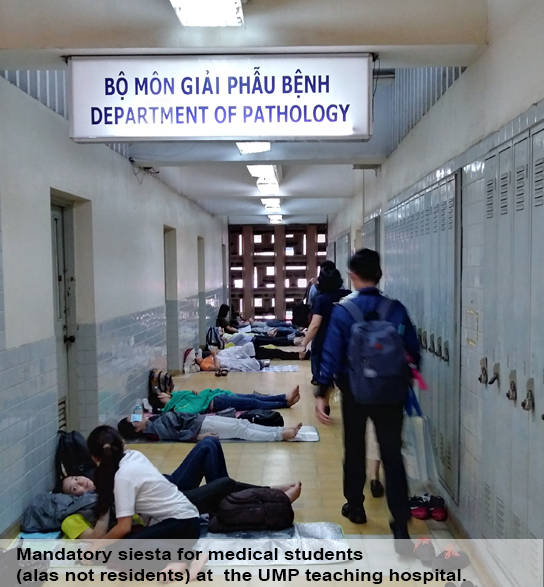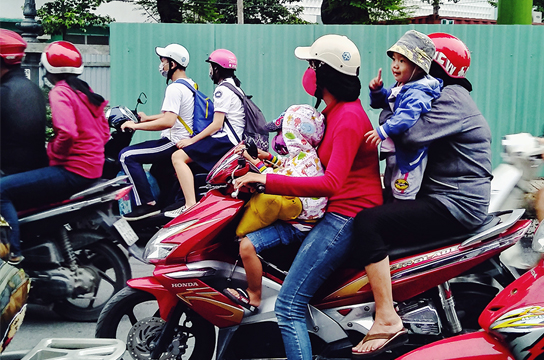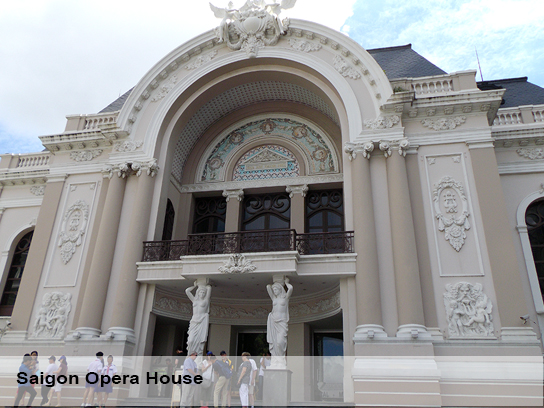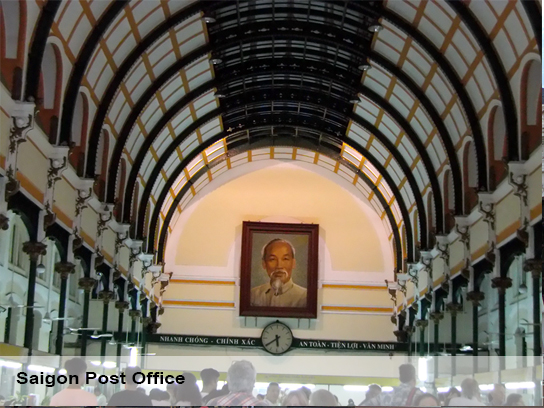 Katerina Zis and I were invited to go to Ho Chi Minh City or HCMC (Saigon) this fall as part of an ongoing initiative championed by the UBC Department of Pathology and supported by a number of partners including the Canadian Chamber of Commerce Vietnam, organisers of the Terry Fox Run Vietnam and thousands of donors in Vietnam, the University of Medicine and Pharmacology (UMP) in HCMC where we conducted our teaching and training, and the Terry Fox Research Institute (TFRI). The overarching goal of this element of a larger initiative is to improve pathology residency education in Vietnam. It has been a long- term collaborative effort by both Vietnamese and Canadian partners and this current trip was the culmination of years of planning. The impetus of this trip was the need to learn, appreciate, and hopefully to integrate the 2016 WHO Classification of Tumours of the Central Nervous System in the local brain tumour diagnostic pipeline.
We arrived in Saigon, populated by close to 10 million people, in the gentle heat of 34C. We were immediately exposed to the vibrancy and energy of the city, and also the staggering number of scooters and the many different combinations of drivers and passengers on the scooters. Crossing the road even next to the hospital was the biggest challenge. We were told to "be a fish" and go with the flow of the traffic. It was really the marauding schools of scooters that concerned me. However, after a few days we learned to "go with the flow" and plainly announce our intention with unambiguous body language while crossing the road. It worked but we would still be cautious with the trucks and taxis. This was a demonstrative lesson in working and adapting to the real situation in Vietnam.
We conducted our teaching at UMP, the primary medical school and teaching hospital in the south of Vietnam, where most pathology residents are trained. The welcome was warm and enthusiastic and we met many of the pathologists from UMP and HCMC hospitals. The lectures were held in a modern lecture theatre with real time translation and headsets for the participants (just like the United Nations!). The lecture materials, including powerpoint presentations, PDFs, and links for Aperio e-slides, were sent to HCMC for pre-distribution to the participants.
There are no specialist neuropathologists in Vietnam and post- graduate anatomical pathology training consists of three years of residency. Staff pathologists are assigned a specialty and encouraged to gain additional exposure either through fellowship training abroad or "on the job". Diagnostic neuropathology in Vietnam remains primarily a tumour service with an annual case load of around 2000 cases per year in HCMC (Table 1). Autopsy neuropathology does not exist given the fact that non- forensic autopsy has not been in practice since the 1990's. There is very little in the way of muscle or nerve biopsies for the workup of metabolic or peripheral nerve diseases.
Hospital

Neurosurgical procedures / yr

% Surgical neuro- oncology

Breakdown

Cho Ray Hospital

2000

60%

LGG 25%
HGG 20%
Metastasis 10%
Others (including lymphoma) 35%

UMP

400

6%

Nguyen Tri Phuong

200

20%

Nhi Dong II

100-150

95%

Astrocytoma 40%,
Medulloblastoma 30%
Others (including lymphoma) 30%

Nhan Dan 115

800

50%

LGG 25%
HGG 40%
Others (including lymphoma) 35%
The staff pathologists and residents were enthusiastic and eager to learn. During the coffee breaks, we were inundated by questions especially pertaining to the implementation of the 2016 WHO Classification. We were also shown cases as JPEGs of hematoxylin/eosin- stained slides on a pathologist's laptop as well as actual glass slides under a multihead microscope. Many of these cases were challenging especially in the absence of the usual battery of immunohistochemical stains and advanced MRI sequences that we are accustomed to in North America. The difficulty of making an informed and precise diagnosis, in the absence of complete adjunct clinical and pathological information, was acutely obvious. At the same time, we also experienced first- hand the collegiality of the pathology group, amongst the staff pathologists and trainees as well as the need to extract as much information from the H/E section as possible.
During the multihead microscope session, we reviewed cases ranging from pilocytic astrocytoma to primary CNS lymphoma. Certainly, there was a variety of brain tumors similar to that seen in Vancouver. There were also many cases that could benefit from additional immunohistochemical and genomic workup including IDH1 R132H, ATRX, and H3F3A K27M testing as well as 1p19q co-deletion testing. These are the molecular adjuncts proposed in the most recent WHO Classification and should be integrated into the "glass- based" diagnosis. On the other hand, one can argue that the need for additional molecular information is only necessary when they alter management decision. For example, the inclusion of patients with diffuse midline glioma with H3F3A K27M mutation in a EZH2 inhibitor trial. A survey of management paradigm for low and high grade glioma in Vietnam revealed a fairly standardized algorithm whereas resection and radiological followup is used for LGG and ionizing radiotherapy following surgical resection is typical for glioblastoma. There is no apparent difference in management between molecular astrocytic (IDH- mutant, 1p19q- retained) and oligodendroglial (IDH- mutant, 1p19q- codeleted) tumours whereas this information is essential in the management of LGG patients in North America. The lack of IDH1 R132H and ATRX IHC testing, not to mention 1p19q FISH or loss of heterozygosity testing, makes this a process that relies purely on histomorphological yet analog metrics. In the absence of 1p19q information, the combination of stereotypical histology and supporting IDH1 R132H/ATRX IHC findings are adequate for a "NOS" classification. This is not sufficient for a de facto molecular diagnosis of oligodendroglioma, IDH- mutant, 1p19q- codeleted associated with the best clinical outcome; however, "NOS" is associated with an intermediate outcome better than IDH- mutant astrocytoma but inferior to genuine molecular oligodendroglioma (IDH- mutant, 1p19q- codeleted). We were very motivated to help to establish these IHC assays and 1p19q- FISH test and provided unstained LGG slides for the optimization of these assays and informed them of the CIQC initiative to assist with ongoing quality assurance of IHC testings.
HCMC was an amazing experience. We met motivated, smart, and dedicated clinicians, pathologists, and trainees. We made many friends. We were deeply impressed by the kindness, warmth and hospitality of the Vietnamese people. We also became aware of how fortunate we are to practice neuropathology in North America. Access to pre-operative imaging and antibodies has significantly enhanced the precision and clinical impact of brain tumour diagnosis. Despite these deficiencies, the desire and drive to learn and to do the best for patients remain. This trip highlighted the need to reach out to countries with less resources and expertise to improve the practice and training in pathology. Telepathology is the logical choice to maintain case exchange between Vancouver and HCMC. Whereas the trip this fall was helpful, we believe that the long term and sustainable solution is to provide additional training for a Vietnamese pathology resident interested in neuropathology. This plan is underway and when funding for a 2 year fellowship training program has been secured, UMP will select the most dedicated Faculty to take up this training with UBC Pathology.
Our teaching experience in Vietnam was analogous to crossing the road in HCMC. It was hectic, busy, and at times overwhelming; however, we learned to "go with the flow", to place our trust on others and also to make our intentions clear and known. This strategy worked in both crossing the road full of scooters and our inaugural effort of neuropathology teaching in Vietnam.
Although there was very little time for sightseeing during our short time in HCMC, we managed to briefly visit a few landmarks of the city. The Central Post Office (Fig--), is an example of French colonial architecture designed by Gustave Eiffel, who also designed the Eiffel Tower in Paris. It is remarkably well preserved and still used as the city's main post office. Prominently displayed at the far end of the building is a large portrait of Ho Chi Minh, the Vietnamese leader with a national following who ended the French colonial rule, united the country and established the Democratic Republic of Vietnam. The HCMC Municipal Theater (Opera House), a beautiful, well preserved 800-seat building is another example of French colonial architecture built in 1898 (Fig--). Unforgettable is the visit to the War Remnants Museum. Graphic photographs, exhibits and American military equipment are a testimony to the brutal 8 year war (1964-1972) launched by the United States, who used maximum military effort in order to defeat a nationalist revolutionary movement in a small country and failed. The horrific photographs of death and executions of Vietnamese civilians and the effects of napalm bombs are as shocking as the graphic photographs of birth defects due to prenatal exposure to "Agent Orange", a defoliant that was sprayed by planes to destroy trees and other plants. It is estimated that 500,000 children were born with birth defects and 4.8 million people were exposed to it. The museum conveys the suffering, but also the resilience of the Vietnamese people and makes an extraordinary statement in support of peace and against war and the devastation of human life.This trip would not have been possible without the tireless advocacy of Hanh Huynh at UBC, who has dedicated his life to improving medical education in his native country, of Antony Nezic & Kelly Wong at the Canadian Chamber of Commerce Vietnam, Dr. Tuan, UMP President, thousands of donors of the Terry Fox Run Vietnam, Victor Ling and Stephen Herst at TFRI, as well as Mike Allard at UBC Pathology who are all instrumental to the current and ongoing success of this initiative.ß