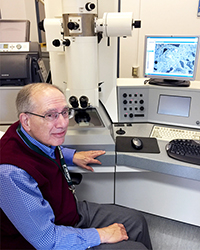 July 2018 marks a new beginning for Dr. Magil as his remarkable era of renal pathology in British Columbia comes to an end. Alex has been a fixture at St. Paul's Hospital, UBC, Vancouver, and all of British Columbia as the head of the Provincial Renal Pathology Service for more than 40 years. His prolific career has affected members of both the Department of Pathology and Laboratory Medicine and Division of Nephrology alike.
Originally from Montreal, Alex studied physics at Rensselaer Polytechnic Institute in Troy, NY and McGill University, where he received his BSc. He went on to medical school at Queen's University in Kingston, ON and completed his pathology residency at University of Toronto. Alex first came to UBC for his renal pathology fellowship with Dr. Bill Chase. After a brief time at St. Michael's Hospital in Toronto, Alex settled in Vancouver at Shaughnessy Hospital and UBC and eventually came to St. Paul's Hospital in 1993 after Shaughnessy Hospital closed.
Dr. Magil's illustrious renal pathology career has spanned a time of sweeping changes in the field. He started at a time when Dr. Chase collected and processed his own renal biopsies and could and would fix his own electron microscope (a remarkable feat even at a time when vacuum valves were manually opened and closed on these EMs). He now leaves us with a provincial renal pathology service of nearly 1600 biopsies per year, a full dedicated technical team, three full-time renal pathologists and a program in BC that is one-of-its-kind in all of Canada. In this time, Dr. Magil has helped to shape the subspecialty of renal pathology and has made tremendous academic contributions to the field, especially in the field of renal transplant nephrology regarding C4d and the role of monocytes and macrophages in rejection.
Whether teaching medical students at UBC, giving pathology resident lectures, or teaching pathology residents and nephrology fellows at the scope during sign out, Dr. Magil has influenced numerous trainees over the years. He has been a tremendous source of knowledge and wisdom for the current young renal pathologists at St. Paul's (especially myself), and learning from his years of experience has been invaluable.
We wish you well, Alex, and thank you for all you've done – for our education, for the renal program in BC, and for all of renal pathology. All the best to your new beginning of retirement (though we know there could always be time for an interesting renal case!).