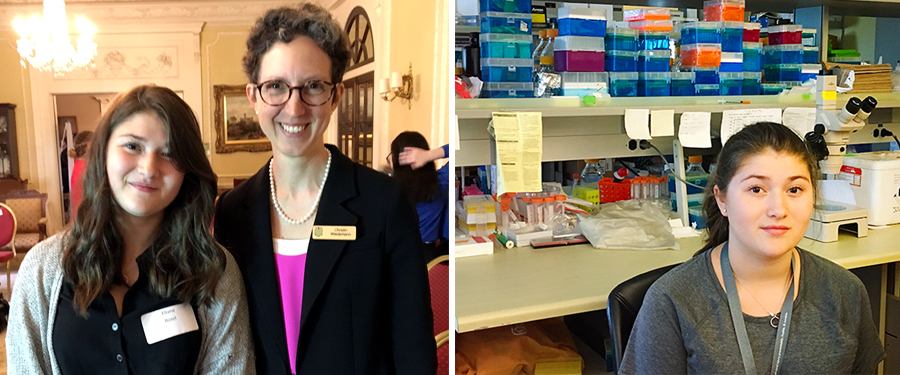 Pathology and ICORD collaborate on many things – among them the hiring of researchers who bridge spinal cord research and pathology. While hunting for an ideal bridging candidate, the search committee noted that it would be nice to have indigenous scientists as part of the candidate pool. To achieve that, the pipeline has to start somewhere. Cheryl Niamath and Dr. Corree Laule took up the challenge and created the Summer Research Program for Indigenous Youth:
Meet Eliana Bond, ICORD summer student!
Born and raised in Burnaby, Eliana is preparing for Grade 11 at Burnaby South Secondary School. She is the first person to have been hired as part of ICORD's new Summer Research Program for Indigenous Youth. "I like science, but I'm not really sure how to get into it, so this program was perfect for me," explained Eliana.
To give her an introduction to the exciting world of spinal cord research, Eliana is spending her summer doing projects in several labs at ICORD. So far, she has conducted blinded observations of behavioural testing in the Tetzlaff Lab; did comparisons of standard and ketogenic diets; helped with participant testing in the Human Locomotion lab; and spent some time at PARC, where she observed a Boxercise class, the expiration test for lung function, and other exercise tests. Currently she's working in the Ghahary Lab, followed by the Laule Lab. The most interesting things that she has seen so far are a demonstration of transcranial magnetic stimulation and PARC's arm-cycle version of Mario Kart. "It's also been really cool learning how animal studies work, because I had no idea how important they were to research," Eliana observed
In her free time, Eliana enjoys hiking, playing volleyball, and tailoring clothes. Eliana also likes baking, although she feels she has a lot to learn. "I come from a very culinary family–my dad teaches at the Pacific Institute of Culinary Arts–so I have pretty big shoes to fill." Eliana is a big fan of Jamie Oliver, and she used to know the theme song to his show by heart.
If you're looking for a good read, Eliana recommends The Dog Stars, a post-apocalyptic novel about the lone survivors of a disease that wipes out most of humanity. Her favourite TV series include Grey's Anatomy, Gattaca, and Bones. As for which scientist, living or dead, she'd like to meet, she said, "if he were a real person, I would like to meet Dr. Hodgins from Bones, because I like how he combines different areas of science as a forensic anthropologist. He was one of my inspirations for studying science."
To foster a continuing interest in science even after the summer is over, Eliana was presented with a membership to the Society for Canadian Women in Science and Technology (SCWIST) where she can find mentors, friends and networks to support her journey in science. Dr. Christin Widemann, SCWIST President 2017, welcome Eliana to the society at SCWIST's Annual General meeting. At the AGM, we also met Pia Bond, Eliana's identical twin, who claims to be the artist in the family – but is a whiz at math and physics.