From The Renal Pathology Laboratory for British Columbia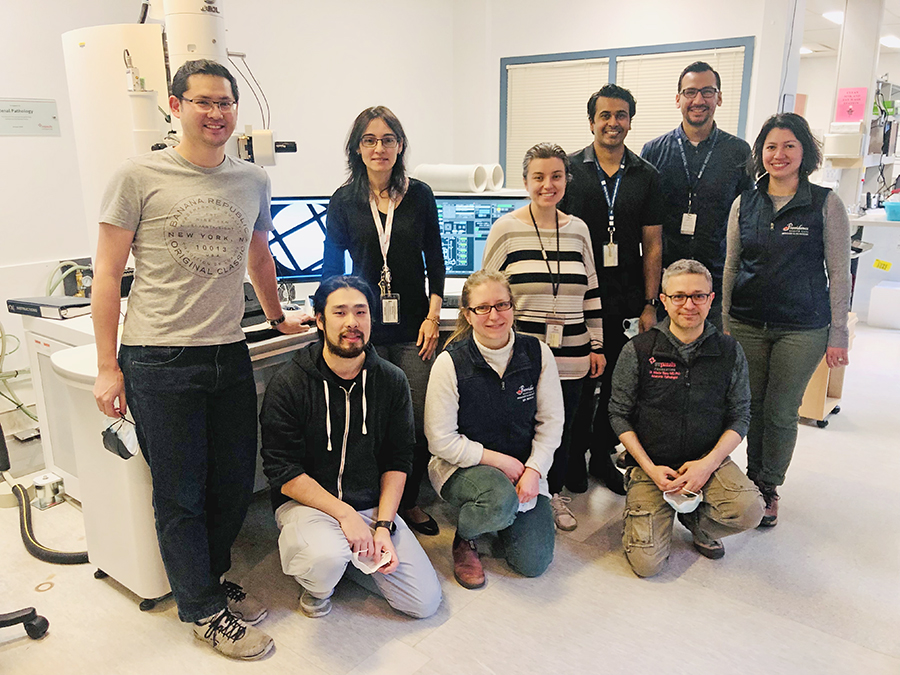 Group Photo, left to right: Back row: Dr. Paula Blanco, Patricia Hutchinson, Reginald Naidu, Riccardo Ortiz, Dr. Mei Lin Z. Bissonnette; Front row: Justin Lo, Ivan Tsang, Dr. Susanna McRae, Dr. Maziar Riazy
---
"We processed 1700 kidney biopsies in British Columbia in 2021 – an annual record – and the service continues to grow."
An estimated 1 in 10 British Columbians are affected by kidney disease, and a kidney biopsy is often performed to help assess function and diagnose kidney disease. When a kidney biopsy is done, the tissue is sent to the BC Provincial Renal Pathology Laboratory (BCRPL) located at St. Paul's Hospital in downtown Vancouver. The BCPRPL receives medical kidney biopsies and kidney consultations from across all 6 health authorities in British Columbia. Every kidney biopsy performed in BC for non-tumour kidney conditions, such as hypertension, diabetes, lupus or transplant rejection, is received, processed, interpreted and diagnosed at the BCPRPL, and we handle all biopsies in native and transplanted kidneys for both adults and children. We processed 1700 kidney biopsies in British Columbia in 2021 – an annual record – and the service continues to grow.
Kidney biopsies are evaluated with not only traditional light microscopy, but also special types of microscopy, including immunofluorescence and electron microscopy. The specialized tissue handling for these types of microscopy is managed by our expert technical team that includes Gloria Ho, Ivan Tsang, Justin Lo, Reginald Naidu, Patricia Hutchinson, and Ricardo Ortiz. Our BCPRPL technical team oversees usual specialized histochemical stains as well as routine immunofluorescence panels and specialized immunofluorescence staining, which includes paraffin tissue immunofluorescence, IgG subtypes, PLA2R, C4d, and the alpha-5 chain of type IV collagen. We also perform specialized immunohistochemical stains like DNAJB9 for the diagnosis of fibrillary glomerulonephritis. The BCPRPL operates the only clinically validated electron microscope in BC. Under the direction of Dr. Paula Blanco and the operation of Justin Lo, Ivan Tsang, and Reggie Naidu, we manage ultrastructural evaluation of all kidney, heart, nerve, and muscle biopsies in BC.
Whether evaluating medical renal biopsies, background kidney from tumour nephrectomy, or autopsy kidneys, the renal pathology team at the BCRPRL has been collaborating with clinicians and pathology laboratories throughout the province to drive excellence and innovation in medical kidney diagnostics and care.
With ongoing projects in coordination with biopsy collection site laboratories and nephrologists throughout BC, we are building a collaborative network for innovation in medical kidney diagnostics and care. The BCPRPL recently launched a provincial kidney biopsy collection kit and is working with collection site laboratories throughout the province to develop reference materials and build a network of kidney biopsy expertise to unify the quality of biopsy collection for the province. Under the supervision of Dr. Maziar Riazy, the BCPRPL is working with our nephrologist colleagues to enhance understanding of renal pathology through improved communication in pathology reports. The BCPRPL leads multidisciplinary biopsy rounds with all health authorities to support continuing education and integrative care throughout the province. Under the direction of Dr. Susanna McRae, all pathology and nephrology trainees learn renal pathology while fully immersed in our laboratory.
As the centralized laboratory for kidney biopsies, the BCPRPL also houses the kidney disease tissue biobank for the province. In collaboration with provincial clinical data bases, we are working to synchronize tissue samples and histologic data with clinical data to create a unified provincial approach to translational research and development of diagnostic testing and tools. Current projects are using this approach to investigate new biomarkers and molecular expression in transplant patients to better understand and treat kidney transplant rejection. In addition to translational research, we also facilitate clinical trials and support basic science research on kidney disease. The BCPRL is also involved with implementing digital pathology in BC to not only improve clinical care and management of patient diagnostics, but also for research, including machine learning.
The BCPRPL continues to look to the future as the need for kidney disease diagnostic services continues to grow. With the development of new techniques and ongoing collaborations throughout BC, the BCPRPL will continue to work toward a new precision medicine model for diagnosis and treatment of kidney disease.