The Pathology Student association (PaSA) is a UBC Graduate Student Society affiliate organization that was formed in 2015 and has since organized the annual Pathology Arts Gala along with recurring social and career development events for the department's graduate students.
PATHOLOGY ARTS GALA: Friday, March 9th, 2018
Welcome Night
At the fall of 2017, PaSA hosted a Welcome Night social event to introduce new coming graduate students to their peers. This bi-annual event also provides a chance to gather department's students from all years to meet and socialize with their colleagues. We are grateful to have nearly all first and second year students participated this time, as well as many from upper years. PaSA hopes to continue this custom in the coming years.
Industry Night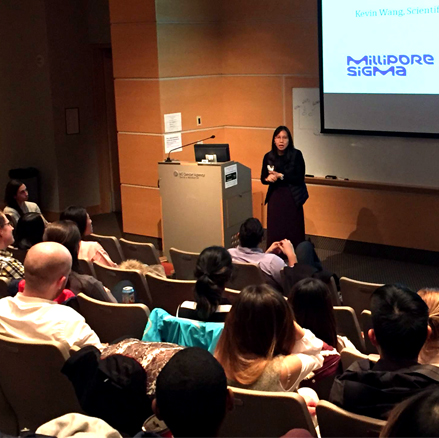 The Industry Night career information event, held on November 27th 2017, was a wonderful opportunity for the department's graduate students to explore possible future career paths. Great thanks to our speakers of the night, ranging from scientific recruiter to senior sales , and our recently graduated student, to share their experiences in the biotechnology industry. Their advices on job application and development of soft skills, as well as how their interests have led to their current position, would profoundly enhance the success of our students in navigating their future career paths. Special thanks to our generous main sponsors of the night, MilliporeSigma, and contributions from the Pathology department.